ENGLISH
SPANISH CLASSES

In Cochabamba, Bolivia
GENERAL SUMMARY AND INTRODUCTION


Cochabamba is a city of Bolivia with a pleasant climate all year round and with many options for tourism. It's an ideal place to learn Spanish (often referred to as Castellano).
Carmen Vega and Jaques Chenal together with their other teachers offer Spanish courses that are private and personalized or for groups as well, with an emphasis on dialogue, communication and grammar.
We are a school that is:
- Professional, with many years of experience in teaching Spanish to foreigners,
- With a modern, creative and interactive method,
- Providing an introduction to Andean culture both theoretical and experiential,
- In a family environment that helps students of all ages and nationalities feel at home.
We also offer: lodging in families, voluntary work, advice on travel, cultural and turistic activities, Andean music, Latin American dances and classes through internet.
The people of Cochabamba are welcoming,
and offer an unforgettable experience of the cultural richness of Bolivia.
The Spanish spoken in Cochabamba is "classic"
in the sense that it is easily understood in all Latin America.

The Spanish courses for Foreigners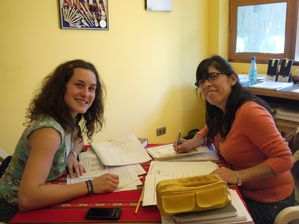 The Spanish courses are interactive. We teach grammar, do written exercises and practice conversational speech. Our methods are didactic and dynamic, using texts, videos, games, songs and visits.
We introduce students to Bolivian Andean culture and/or the cultures of Latin America.
The method employed offers a quality experience in which teaching is adapted to the interests, needs and personal expectations of the student. Students have an active role in class; the opportunity is always there to practice conversations, whether they be basic or more advanced, addressing topics of interest to the student.
Students who choose private classes (one student, one teacher) usually get more out of their study, but classes of 2 or 3 students can be arranged for students of the same level.
Classes are adapted to the student's language level ranging from basic, intermediate, advanced and very advanced. When necessary, professors can explain points of grammar and vocabulary in English or French.
Class time is flexible according to the student's needs and possibilities. Arrangements can be made for 2, 3, 4, or 5 hours daily. For students beginning to learn Spanish (Castellano) we recommend 4 hours daily. For students with some previous knowledge of the language, our policy is at least two hours daily.
Carmen Vega's School and Teachers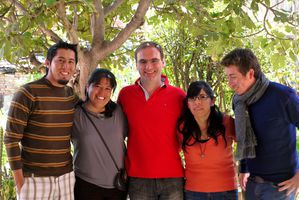 Our team of teachers is composed of experienced, competent persons holding degrees in language study and language teaching from the University of San Simon in Cochabamba. They speak English and French, and have a basic grasp of Portuguese and German.
Our students are of varying ages and nationalities: they come from Germany, Austria, Australia, Brazil, Belgium, Canada, Denmark, Scotland, the United States, France, Holland, England, India, Italy, Israel, Japan, Norway, New Zealand, Poland, Portugal, Sweden, Switzerland…
Our Team:
- Carmen: I have 16 years of experience teaching Spanish to foreigners. Travel outside Bolivia has broadened my understanding. I love to talk about my experiences and Bolivian culture.
- Jacques: my husband comes from France and has years of experience in education. He has lived in Uyuni and had contact with the rural communities there. He loves to teach and is dynamic in his classes. He also loves to converse about Bolivian history and society.
- Noemí: she has a long experience in teaching Spanish to foreigners. She is very creative and has extraordinary patience. She loves to explain grammar and talk about daily life in Bolivia.
- Daniel: this young teacher has his degree from the University. He is open and unconditionally available to the students. He loves to talk about things of interest to young people like music, movies, museums, and Bolivian festivals.
CONTEXT AND POSSIBILITIES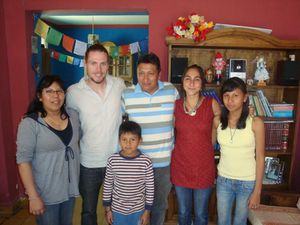 Our school is located in Barrio Minero Alalay, Cochabamba, near the city center. It's easy to get to our school, but if a student wants classes at his or her residence, we do our best to accommodate.
For those students who desire it, we arrange family lodging, which wonderfully complements classes, since spontaneous, natural conversation in Spanish is available constantly. All such lodging is just a five minute walk from the school.
We offer opportunity for voluntary social work in established institutions, such as kindergartens and centers for helping children learn outside of school.
We help and encourage students to organize their trips for sightseeing and cultural enrichment. We have a lot of useful information and are experienced in accompanying such trips when needed. Often students ask us to set up trips to Oruro's famous carnival, to Toro Toro Park, places of Incaican ruins, and other points of interest. On Friday's we arrange an experience of the K'oa ritual.
We also offer:
- free transportation from the airport
- internet, Wifi and Skype
- books and videos in Spanish, French, English and German
- help in emergencies related to health, visas, etc
- classes for learning French
- classes for learning how to play Andean musical instruments such as the charango, flute, zampoña and guitar
- classes for learning Latin American dances such as salsa, tango, and traditional Bolivian dances.
- classes for learning Spanish via the internet
Our prices are reasonable, according to what services a given individual or group desires.
For information or answers to your questions contact: cbbacarmen@gmail.com

A BIT ABOUT COCHABAMBA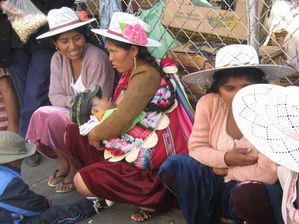 Cochabamba sits at 2500 meters (some 7500 feet) above sea level.With 900.000 inhabitants,this region is one of the biggest city of Bolivia,which is located in a well populated fertile Valley at the Oriental Mountain Range . The climate is like an eternal Spring, pleasant, with day-time temperatures rarely falling below 20 degrees centigrade. Cochabamba is a lively place and home to many students.
Some of Cochabamba's many tourist attractions include: the statue of Christ "de la Concordia" (as high as the statue overlooking Rio de Janeiro!) and the huge open market of South America. The nearby valleys have quaint towns with local traditions and foods. Further away but still accessible are the Torotoro National Park, the tropical area called Chapare and places of Incan ruins and Mount Tunari…
Cochabamba is at the geographic center of Bolivia. Travel to other areas of the country is easily arranged. Tourists love to visit Potosi, Sucre, La Paz and Lake Titicaca, Oruro with its carnival, Uyuni with its Great Salt Flats, Eastern Bolivia with its historical Jesuit missions and the tropical forest...
ABOUT FOOD
Bolivia has a variety of typical dishes. Cochabamba is fortunate to have an abundant supply of a wide variety of fruit and vegetables all year round. "Chicha" (sometimes translated as "corn beer") is an alcoholic beverage dating back to Incan times, and is always served at parties (fiestas).
All of Bolivia's cultural richness comes together in Cochabamba! That's why it's the ideal place to experience Bolivian life and culture!